Tools Of The Trade
There are many different tools available that can help you play better by providing information to you like pot odds and % chance of winning a hand plus a lot more. The tool that I use most and find very helpful is called Holdem Indicator. You can download a trial version for free and try it out on the play money tables to see how it works, if you like it you can get the full version to use on real money tables either by buying it or for free by making a deposit in a site and playing a certain number of hands there.
The Holdem Indicator will attach itself to the table you are playing and will automatically give you all the information you need. If you would like to download Holdem Indicator and try it out click on the link below.
CLICK

I can highly recommend the holdem indicator, it is a very useful tool. There are some other tools made by the same company that you may like to take a look at.
CLICK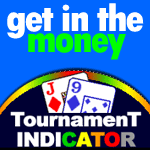 CLICK
CLICK

I have used the omaha indicator on the trial version/ play money tables and won about $100,000 in 3 1 hour sessions.
NEXT PAGE